Remarkable advancement of IT technology and economic globalization are dramatically changing the accessibility to the entire world and our sense of value and social awareness. On the other hand, drastic economic growth has brought about new issues such as environmental changes, including abnormal weather and marine pollution. Therefore, we are constantly contemplating how we can contribute to our customers and society.
 Since our establishment in 1862, Shinatomo has developed "trust" and "performance" throughout its long history, which have enabled us to engage in our business with pride and self-confidence as a group of textile professionals, and has adapted to the ever-changing times with innovative ideas and flexible thinking.
 Our business covers cotton, linen, wool, and other natural fibers as well as synthetic materials such as nylon and polyester to produce yarns, with which we then produce textiles, clothes, industrial materials, and more. We believe it is vital to respond to the diverse requests from our customers using our abilities to collect information and offer proposals while utilizing our global production network focused mainly on Asia. Our current challenge is to further promote our initiatives for SDGs (Sustainable Development Goals) through fair trade, organic cotton, anti-bacterial materials, and other means.
 The scope of our business activities will keep expanding along with the ongoing globalization. We will continuously build up our business aiming for social contribution and new value creation through our textile production, and thus become a corporation that meets and exceeds our customers' expectations.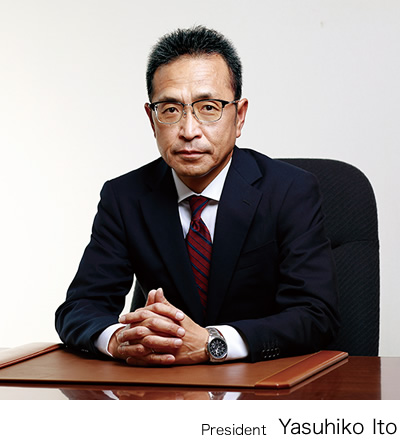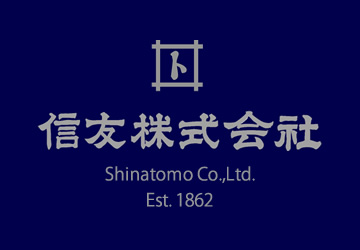 Our founder, Tomoemon Kondo, launched a cotton yarn business in 1862 under the name "Shinanoya" as a supplier to the Owari Domain. The business name "Shinanoya Tomoemon," as was commonly used for our company in those days, is the origin of the company's name today—that is, "Shinatomo." The company "Shinatomo Shoten Limited" was incorporated in 1917, and this was changed to the current name in 1943.
Throughout the era of modern industrial development since the Meiji Restoration until the rapid post-war economic growth period, Shinatomo has consistently built up a record of achievements and trust as a specialized trading company.
Succeeding its founder's innovative mind, Shinatomo has taken the lead as a textile pioneer from the inception of the Japanese textile industry until today and thus has established its position as a group of textile professionals.

Company Name
Shinatomo Co.,Ltd.
Establishment
1862
Paid-in Capital
300,000,000yen
President
Yasuhiko Ito
Number of
Employees
73(2023/3)
Service
Textile trading company
Domestic sales, importing/exporting,
triangular trading of various textile products
Our Products

Yarn

:

Raw materials and raw yarn from natural and synthetic fibers
Textile

:

Various textiles for casual clothing, bed linen, and supply materials
Product

:

Diverse fiber products for such casual clothing, bed linen, building materials,
and the like.

| | |
| --- | --- |
| Yarn: | Raw materials and raw yarn from natural and synthetic fibers |
| Textile: | Various textiles for casual clothing, bed linen, and supply materials |
| Product: | Diverse fiber products for such casual clothing, bed linen, building materials, and the like. |

Sales Composition Ratio
Yarn Department:51%,
Textile Department:24%,
Product Department:25%
Sales
28,000,000,000yen(2023/3)
Business Partners
Nisshinbo Textile Inc.

・


KURABO INDUSTORIES LTD.

・


Shikibo Ltd.

・


UNITIKA TRADING CO., LTD.

・


Daiwabo Co., Ltd.

・


CAITAC FAMIRY, INC.
China・Bangladesh・Myanmar・Indonesia・Thailand・Pakistan・Korea・India・Taiwan・Vietnam etc
Affiliated Companies
TOSHIN FUDOSAN CO., LTD.・Chubu Goko Co., LTD.
Main Banks
MUFG Bank, LTD.・THE SHIZUOKA BANK,LTD.
Contacts
2-11-30, Sakae, Naka-Ku,Nagoya-City, Aichi Prefecture 460-0008,Japan
TEL : +81 052-202-2811
Locations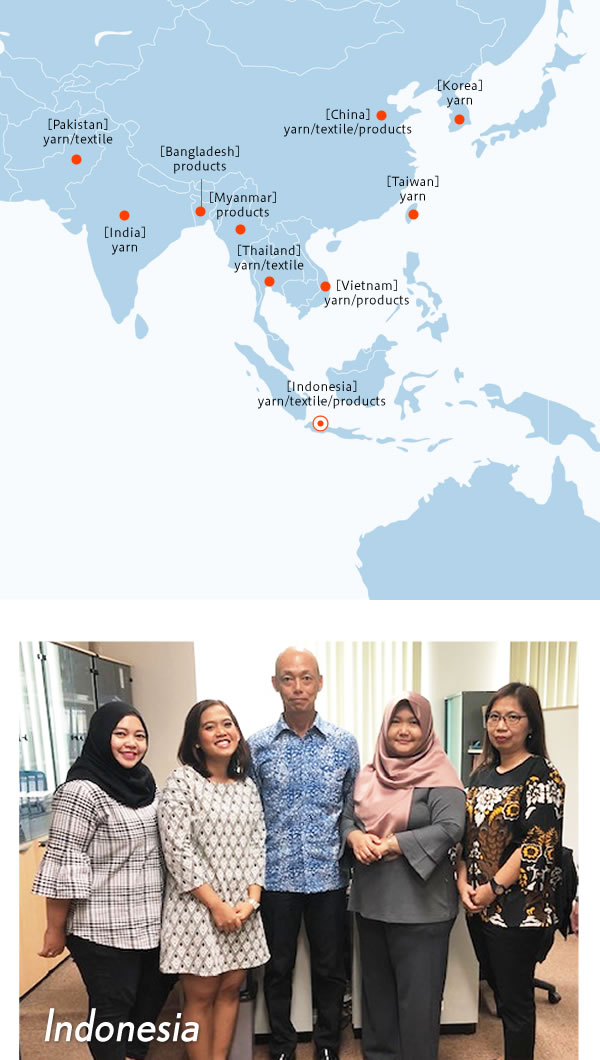 We offer optimal procurement, production, and logistic solutions through our own network spanning China and the ASEAN countries (i.e., Thailand, Indonesia, India, Pakistan)