Economic globalization and competitive society are remarkably changing the sense of value throughout the world. Our starting point is to ask ourselves: "What can Shinatomo do for our customers in this age?"
 Since our establishment in 1862, Shinatomo has performed its business with self-confidence as a group of textile, professionals and has adapted to the changes of the times with free ideas and flexible thinking. This has been achieved based on the trust and achievements we have developed over the years.
 With regards to yarn, textiles, and products for which natural fibers such as cotton, linen and synthetic fibers such as nylon, polyester are used, we believe it is important to meet a wide variety of needs from customers in the fields of clothes, bedclothes, materials, having the abilities to collect information and make proposals and providing credible follow-ups. In addition, having built production systems in China and other Asian countries, we are meeting customer needs globally.
 Our business scope has been expanding both "from the world to Japan" and "from Japan to the world." We continue to create new value and build up our business through textile production, and we keep our customers satisfied with our quality, cost, and the delivery time of our products. In this way, we continue to be the kind of enterprise that is always needed by our customers.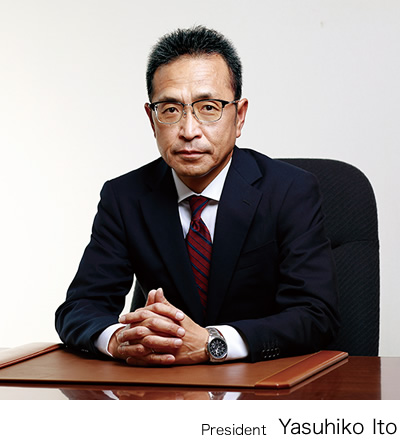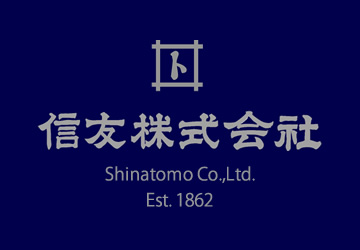 Our founder, Tomoemon Kondo, launched a cotton yarn business in 1862 under the name "Shinanoya" as a supplier to the Owari Domain. The business name "Shinanoya Tomoemon," as was commonly used for our company in those days, is the origin of the company's name today—that is, "Shinatomo." The company "Shinatomo Shoten Limited" was incorporated in 1917, and this was changed to the current name in 1943.
Throughout the era of modern industrial development since the Meiji Restoration until the rapid post-war economic growth period, Shinatomo has consistently built up a record of achievements and trust as a specialized trading company.
Succeeding its founder's innovative mind, Shinatomo has taken the lead as a textile pioneer from the inception of the Japanese textile industry until today and thus has established its position as a group of textile professionals.

Company Name
Shinatomo Co.,Ltd.
Establishment
1862
Paid-in Capital
300,000,000
President
Mitsuo Kato
Number of
Employees
78(2019/3)
Service
Textile trading company
Domestic sales, importing/exporting,
triangular trading of various textile products
Our Products

Yarn

:

Raw materials and raw yarn from natural and synthetic fibers
Textile

:

Various textiles for casual clothing, bed linen, and supply materials
Product

:

Diverse fiber products for such casual clothing, bed linen, building materials,
and the like.

| | |
| --- | --- |
| Yarn: | Raw materials and raw yarn from natural and synthetic fibers |
| Textile: | Various textiles for casual clothing, bed linen, and supply materials |
| Product: | Diverse fiber products for such casual clothing, bed linen, building materials, and the like. |

Sales Composition Ratio
Yarn Department:55%,
Textile Department:27%,
Product Department:18%
Transition in Sales

| | |
| --- | --- |
| Accounting Term | Sales |
| 2016/3 | 298,000,000yen |
| 2017/3 | 274,000,000yen |
| 2018/3 | 264,000,000yen |
| 2019/3 | 265,000,000yen |

Business Partners
Nisshinbo Textile Inc.・KURABO INDUSTORIES LTD.・NISSHINTOA IWAO INC.・Shikibo Ltd.・TOYOBO STC CO.,Ltd.・Daiwabo Neu Co., LTD.・KB Tsuzuki K.K.・Kondo Cotton Spinning Co., Ltd.・CAITAC FAMIRY, INC.
China・Bangladesh・Myanmar・Indonesia・Thailand・Pakistan・Korea・India・Taiwan・Vietnam etc
Affiliated Companies
TOSHIN FUDOSAN CO., LTD.・Chubu Goko Co., LTD.
Main Banks
MUFG Bank, LTD.・THE SHIZUOKA BANK,LTD.
Contacts
2-11-30, Sakae, Naka-Ku,Nagoya-City, Aichi Prefecture 460-0008,Japan
TEL : +81 052-202-2811
Locations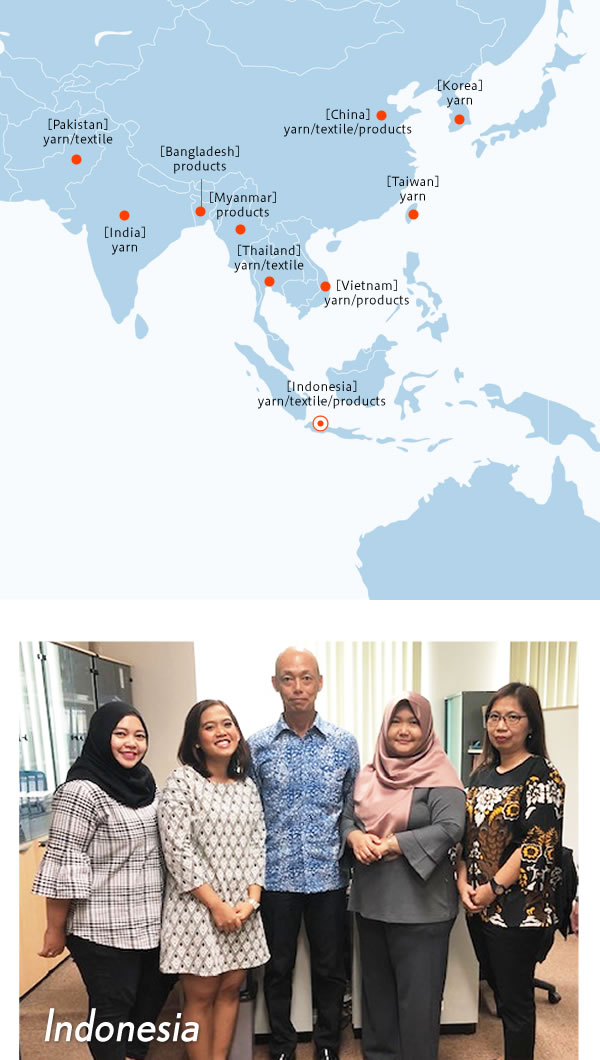 We offer optimal procurement, production, and logistic solutions through our own network spanning China and the ASEAN countries (i.e., Thailand, Indonesia, India, Pakistan)